kuna mdau akataka kujua je ni lazima kutinga high heels kwenye shughuli nene, hata kama hujiwezi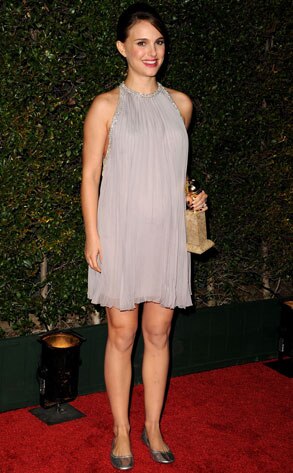 HUYU NI SUPER STAR Natalie Portman....AKIWA NA FLATS JUU YA RED CARPET HUKO MAJUU
MTAALUM WA MASUALA YA MITINDO ANASEMA HIVI
There's a reason most women submit themselves to the tootsie torture of five-inch stilettos. Who can deny the leg-lengthening magic or the boost in confidence you get from those killer pumps? But is it the only way? Maybe not! According to style expert
Milena Joy
, there's another side to this shoe story.
"You won't feel confident or sexy if you can't walk properly or your feet are wedged into a narrow heel," advises Milena Joy. We agree, there is nothing attractive about being the gimpy girl. As much as it pains us to admit it, "If a flat suits your comfort level and style, it's the best option for you," says Milena Joy. After all, "You'll walk taller and look more elegant in a pair of shoes that make you feel great from head to toe."
So what are your best options for a night out in flats? "Try a
ballet flat
or a
light strappy sandal
with some embellishment like Swarovski crystals." Our favorite option? These adorable
crochet oxfords
that'll look fabulous come spring.
As for the rest of your outfit, our fashion guru recommends wearing a short dress to lengthen your legs, just like
Natalie Portman
.
Turns out whether you're knocked up or not, fancy party flats are perfectly fitting!
HIVYO BASI UNASHAURIWA KAMA HAUKO COMFORTABLE NA MNING'ING'INIO...VAA ZAKO FLATS ZA UKWELI ZENYE SWAGGA UNATOKA PINA USIJITESEE SHOST,UNASHAURIWA TU UKIVAA FLAT SHOES UVAE NGUO FUPI KUREFUSHA MIGUU AU UKIVAA SURUALI HAKIKISHA KIATU KIWE KINAHUNGULIA.
HEBU JIPATIE PICHA NA KITU KAMA HICHI
AU HICHII....TENA HIKI KIPO AROUND NI HAPO VIATUZI SEA VIEW, UPANGA KITU CHA COLOR COMBO...HALAFU MWENYEWE UNATEMBEA NA MACOMFOOOO YOOOTTEEEE.